Embark on an incredible journey of self discovery with a determined fly, where true friendship emerges as the ultimate triumph. Unleash your inner champion and be inspired by The Fly and the Horse!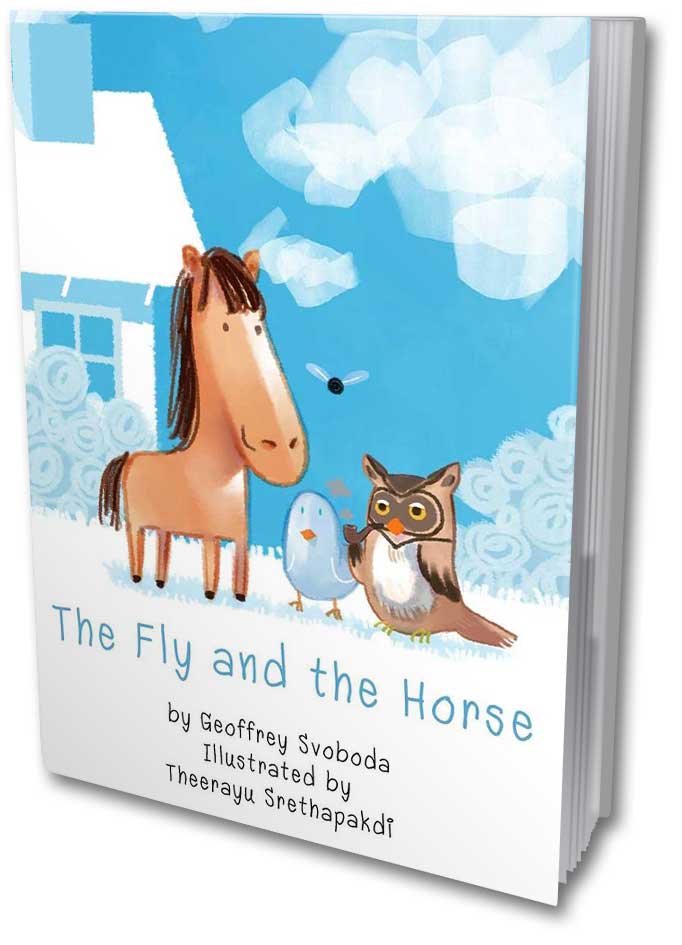 Nurturing Resilience and Friendship

An inspirational tale for Young Hearts
Geoffrey Svoboda, a devoted father, experienced teacher, and author, offers a profound perspective on true fulfillment in his book. With heartfelt wisdom, he illuminates the power of deep connections over mere victories. Through The Fly and the Horse, children are encouraged to embrace their unique abilities, fostering self-worth and confidence. Geoff skillfully imparts essential values of accountability, responsibility, and forgiveness, nurturing vital qualities for healthy social relationships. Empowering children with empathy and resilience, this captivating tale guides them to navigate challenges. Let your child embrace their individuality, treasure friendships, and cultivate a forgiving spirit through the transformative lessons woven within the pages of this remarkable work.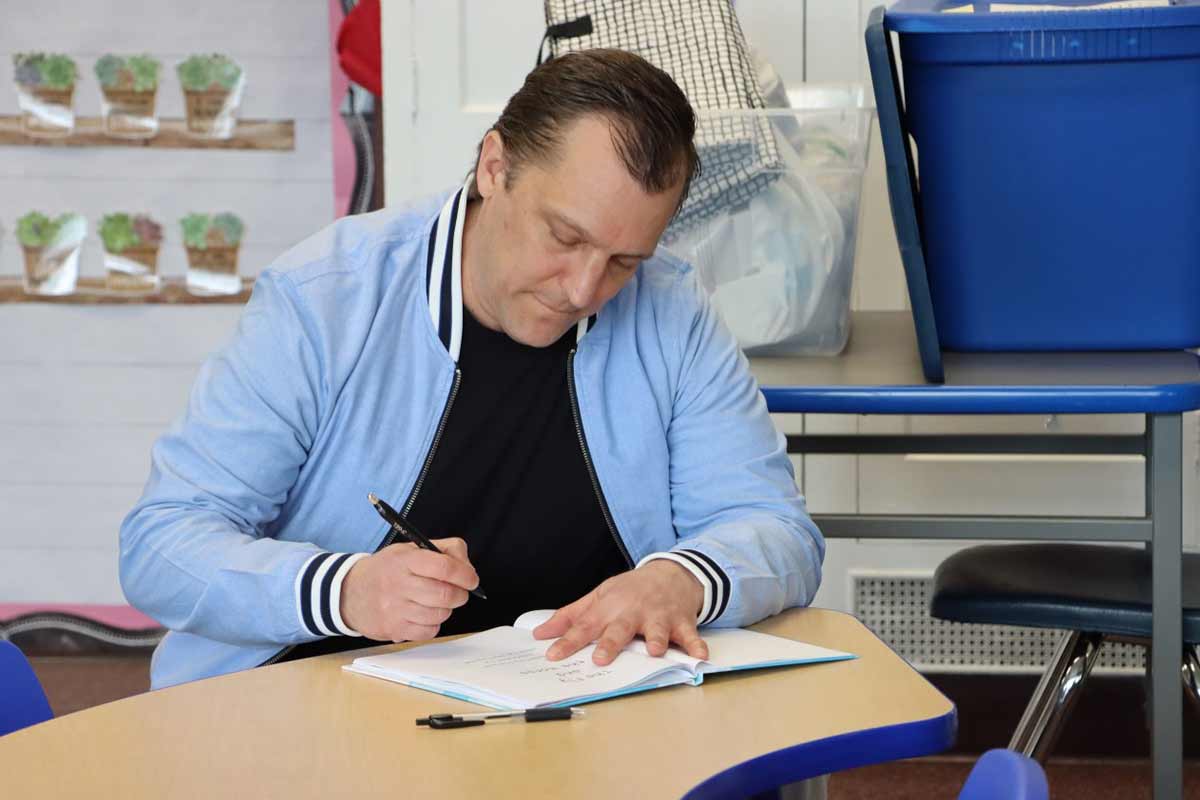 Book Readings & English Tutoring for Kids
With his engaging storytelling style, Geoffrey Svoboda has delighted young readers in various venues, including the esteemed Jefferson County School District 509J in Madras, Oregon, USA, as well as renowned bookstores like Barnes & Noble in Bend, Oregon. His exceptional work has also garnered attention from local publications and online newspapers.
Geoffrey's interactive book readings are an incredible opportunity for children to develop critical thinking skills. As they explore the lessons embedded within the stories, young minds are encouraged to ponder what exciting adventures lie ahead.
If you're seeking an unforgettable experience for your school, bookstore, or any children's venue, Geoffrey is available for public readings. Watch as his words transport children to magical worlds and inspire their creativity. Don't miss the chance to bring the joy of storytelling and the power of critical thinking to your young audience.
Crafted with Care: The Artistry and Journey Behind my book
It all started unexpectedly, as my 4-year-old daughter's innocent request for a bedtime tale set in motion a remarkable chain of events. Inspired by my Czech Grandfather's storytelling prowess, I embarked on a spontaneous adventure. Prompting my daughter to choose an animal, she selected a horse and bestowed upon it the enchanting name "Camgalyn."
With this whimsical beginning, the story unfolded: "Once upon a time, there was a horse named Camgalyn, who was actually a pony."
As a teacher, I have learned the power of involving students in the learning process, and so I sought my daughter's input to shape the story. Her imaginative spark introduced the idea of a race, while I introduced the mischievous character of The Fly.
Over two magical nights, I shared this bedtime tale with my daughter. To my astonishment, she greeted me the following day with vivid illustrations, capturing the essence of our story. It was a testament to the boundless imagination and creativity that children possess, finding adventure in even the simplest of things.
Inspired by my daughter's enthusiasm and the beauty of her drawings, I decided to transform our cherished story into a keepsake book. When I read it to my class, their response was overwhelming—it was an instant hit!
One exceptional student, whose brilliance shone brightly, introduced me to the talented illustrator Theerayu Srethapakdi, a Thai artist residing in Japan. His breathtaking illustrations left me awe-inspired, adding an enchanting visual dimension to the story.
For five years, I tirelessly pursued publishers, hoping to bring our creation to the world. Yet, my efforts went unnoticed. It was not until I arrived in Madras, Oregon in 2021 that I rekindled my dream. Contacting a local publisher, Emerald Books in Bend, Oregon, I was met with genuine interest. Their response resonated with me, and I knew I had found the perfect partner for my book. The arduous journey had reached its destination.
Now, I invite you to join me on this extraordinary adventure, as The Fly and the Horse captures the hearts and imaginations of children far and wide. Discover a world where bedtime stories come alive, nurturing the boundless potential of young minds.
Interested in a book reading
or English Tutoring with Geoffrey
Geoffrey Svoboda is an experienced educator with a passion for teaching. Having started his teaching career at private international schools in Thailand in 2008, he currently serves as an English Language Development teacher for the 509J School District in Madras, Oregon.
Geoffrey's connection to diverse cultures has profoundly influenced his personal and professional journey. From an early age, he ventured beyond the borders of the United States, spending significant time in Latin America and Thailand. His experiences in Latin America, beginning with a visit to Venezuela at 17 and further immersion in Mexico, shaped his perspective and ignited a love for the region. Geoffrey's travels extended to Central America, where he encountered an orphanage in Managua, Nicaragua, profoundly impacting his outlook on life.
Drawing from his rich experiences, Geoffrey has become a seasoned teacher, instructing students at various international schools in Thailand and public schools in the USA. With an educational philosophy grounded in positivity, enthusiasm, and creativity, he strives to make each lesson engaging, relevant, and productive, instilling a love of learning in his students while fostering confidence and self-belief.
In his book, The Fly and the Horse, Geoffrey pays homage to Ta Mon, a remarkable Thai farmer from Buriram, Thailand. Despite being a deaf mute who never attended school, Ta Mon possessed an exceptional range of skills as a farmer, woodworker, mason, and all-around handyman. He embraced resourcefulness, utilizing materials from his local environment and excelling as a fisherman and hunter. Ta Mon, lovingly nicknamed by Geoffrey "The Real Maverick" inspired Geoffrey, and the book's proceeds are dedicated to supporting rice farmers in Buriram, Thailand, in honor of Ta Mon's legacy.
13UGYP1jft79YCDo5JkQe83GsMCVqaewm9